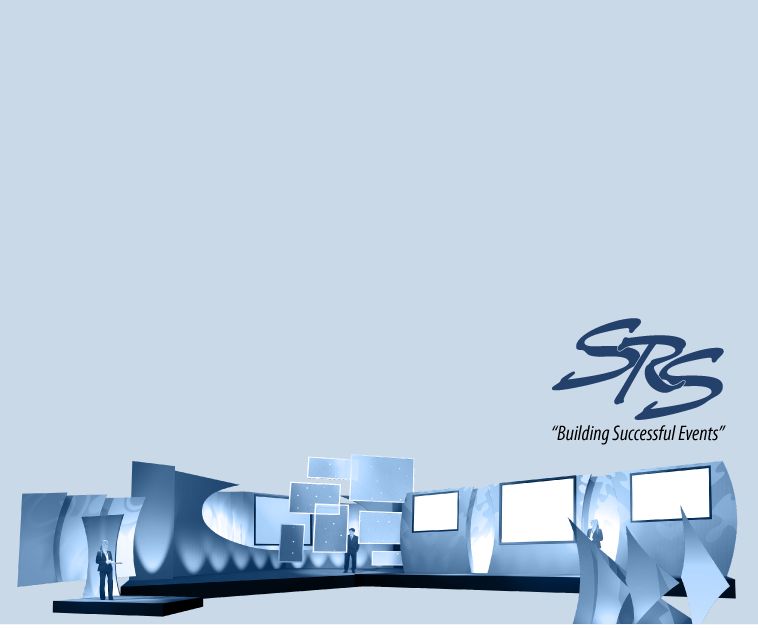 Stage Right Services Ltd provide effective, budget aware scene and stage solutions to the commercial presentations industry.
We work with independent producers and production managers,
audio visual suppliers, event management and production companies.
By providing our stage presentation experience and expertise, together with a full set design and production service, we complement their particular skills and strengths enabling them to offer
a complete presentation or show package to the end-client.
Having recognised our experience, high presentation standards and complete professionalism,
our clients - some associates for more than 10 years - have benefited by pitching confidently
for - and winning - larger, more complicated and higher value projects, reassured
that all the physical staging elements of the production are in the hands of
reliable, trusted and long-standing colleagues.
Pre-production feasibility and budgetary consultation.
Design - proposals, modelling, CAD illustration and technical drawing.
Hire - a wide-ranging service from an extensive stock - panels, staging, furniture, drapes
and a wide selection of complete presentation sets to suit all manner and scale of events.
Project Management - Construction Management - Logistics Management.
On-site specialist staffing.
Full installation and removal service.

_______________________________

We are proud to have recently supported our industry colleagues with their projects for:-
AA ~ AAH Pharmaceuticals ~ Airmic ~BHBIA ~ Biopharmaceutical Conference in Europe
Barnados ~ BPIF ~ Braun ~ British Council ~ British Thoracic Society ~ British Telecom
Bunzl ~ CBI ~ Ceuta Pharma ~ CWU ~ Dairy Crest ~ De Vere & Partners ~ Enterprise Inns
Esporta ~ Everywoman ~ FSA ~ Home Office ~ Honda F1 ~ Jane's ~ Janssen-Cilag
Labour Party ~ Legal & General ~ Manpower ~ Mastercard ~ Mercer ~ Network Rail ~ NHS
Nokia ~ Northern Trust ~ Police Superintendents Conference ~ Portman Building Society
Procter & Gamble ~ RIBA ~ Schering-Plough ~ Siemens ~ Society of Cardiothoracic Surgeons
Soroptomists International ~ Stannah ~ Swisher ~ UKIP ~ Vascular Society
Weightwatchers ~ Zurich Insurance
"Once again, Stage Right Services have delivered on professionalism, attention to detail and on budget - to the highest order."
Jeremy Shakerley, Director, UKS&V Ltd
"...fantastic as usual in sorting out problems and we have received much praise - which was mainly down to you guys."
Jonathan Price, Director, Absolute Events Ltd
"...our most successful AV production to date. ...we are assured of a good deal more of their production work..."
The Directors, Whitwam Ltd
"...you and your colleagues make for a great professional team. Your experience and skill in the industry is highly valued and was demonstrated on site for our production."
Nick Dean, Operations Manager, UKS&V Ltd
"...you excelled our expectations - your quality of build and professionalism were second to none."
Colin Crerar, Advanta Conference Productions
"May I say what a pleasure it is having Stage Right Services on the end of a phone
in these busy months to sort out these things...like an extension of our team
...long may it last."
Buz Ross, Operations Manager, Whitwam Ltd
"... your professionalism and enthusiasm has gained us much credit for
a well run event."
Patty Lloyd, Richmond Events